A Tribute To Peter Green
Written by Lordy McLord on August 2, 2020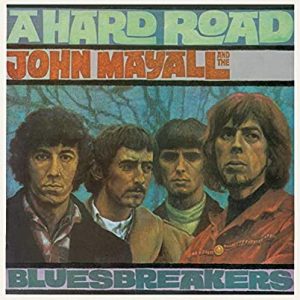 I was 14 years old when a school friend placed the album; "A Hard Road", by John Mayall's Bluesbreakers, in my hand. "Have a listen to this and you'll never want to hear Cilla Black ever again!" he said. I took it home and listened to it. It changed my life forever! I became a confirmed Blues fan from that day on.
The album featured, in addition to the master himself; Aynsley Dunbar on Drums, John McVie on Bass and a young guitarist by the name of Peter Green on Lead. When I think back to the first time I heard his haunting rendition of "The Supernatural" and the shivers it sent down my spine that feeling reappears immediately. "A Hard Road" remains my favourite John Mayall album closely followed by "The Beano Album" despite the fact that the latter preceded it by some seven months in 1966.
When Peter left The Bluesbreakers to form Fleetwood Mac along with Mick Fleetwood and John McVie, "Albatross", "Black Magic Woman",  and "Man of the World" became regular sounds emanating from my old converted "Radiogram". Seeing them live at Blackshots Civic Hall in 1968 cemented my opinion that Peter Green was the greatest guitar player of the era. His incredible guitar work shone like a blazing light above all others as far as I was concerned.
Sadly that light was soon to be extinguished! In 1970, Green discovered LSD and it was to be the beginning of a downhill ride for him in a similar but not so permanent way as Syd Barrett of Pink Floyd. After leaving Fleetwood Mac, Green recorded a solo album and appeared as guest artist on a number of recordings as well as a brief reunion with Fleetwood Mac in 1971, to help them complete their US Tour. Green had an uncredited appearance on Fleetwood Mac's "Penguin" Album in 1973. It was around this time that Green's mental illness and drug use, that had started in 1970, became entrenched and he faded into professional obscurity.
It wasn't until 1979 that Peter Green re-emerged onto the music scene, clearly the worse for wear after his treatment for drug abuse. he continued to record and even had another uncredited appearance on Fleetwood Mac's "Tusk" album on the song  "Brown Eyes". In the late 1990's Green formed the Peter Green Splinter Group releasing nine albums between 1997 and 2004.  Tentative links with the members of Fleetwood  Mac remained throughout the latter years of his life and there was often talk of a Fleetwood Mac Reunion. Sadly these plans never came to fruition.
Peter Green died on 25 July 2020 at the age of 73 on Canvey Island in Essex, UK. A sad loss.
Read the full story of Peter Green at Wikipedia
---
Reader's opinions
---